13 June 2012 looking northeast from Brant and Adelaide St West at the existing site conditions: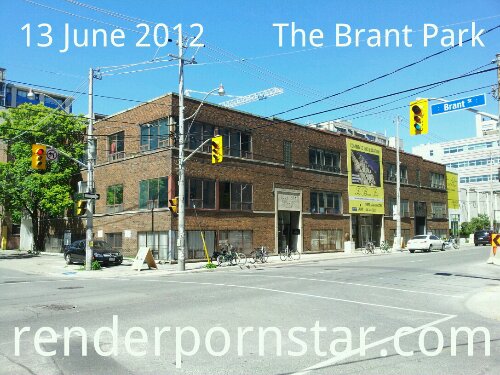 The 25 July 2011 RenderPornStar* The Brant Park is growing larger! Yes the crisply-designed architectsAlliance beauty is getting a phase 2 which carries the same great design thus lengthening the building along its Adelaide Street West facade. More info including updated renderings at The Brant Park We believe this photo taken today shows the new sales centre under construction. It is located just east of the Adelaide and Brant Streets intersection.
6 April 2012 update:
Sales centre is progressing:

Looking South down Brant Street towards Adelaide Street West, with the park (Saint Andrew's Playground) on the right and the Blue Bird Building–to be replaced by the Brant Park–on the left.
14 April 2012: The Brant Park sales centre is now open to the public.